Customer Success Story
Tenant app connects the members of entrepreneurs' association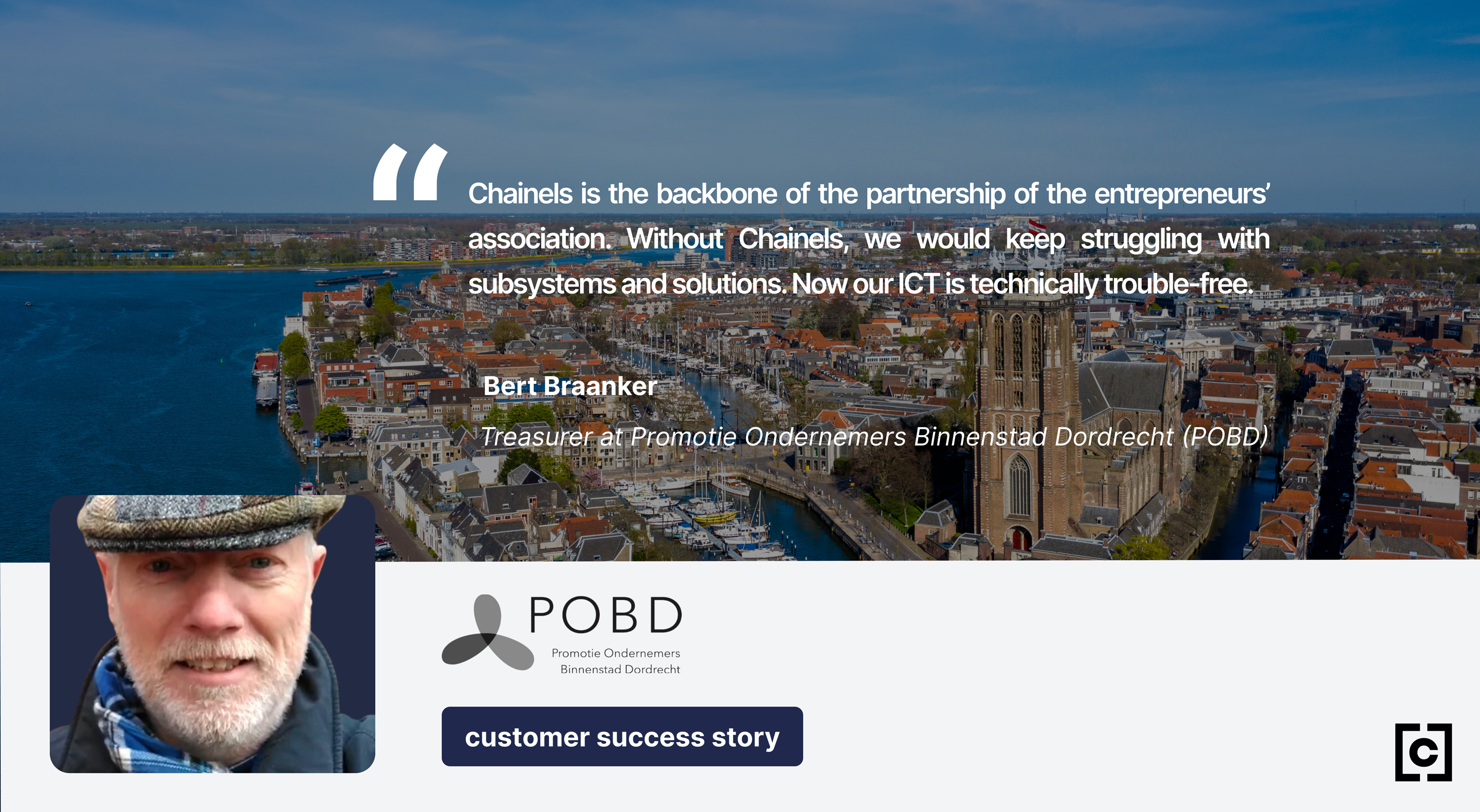 At the Association Promotion Entrepreneurs Inner City Dordrecht (POBD), Chainels was initially implemented to better connect their association's members which consist of the municipality, 500 entrepreneurs with shops in Dordrecht's city centre and immediate surroundings, and Dordrecht's marketing agency. The association is dedicated to promoting Dordrecht's city centre since entrepreneurs depend on the visitors who come to the city centre. By attracting even more visitors to the city centre with activities and events, the entrepreneurs will benefit from increased turnover.
We recently spoke with Bert Braanker, Treasurer of the POBD, about how Chainels supports the organisation's activities. Chainels enables the sending of messages to specific groups of members or lets members subscribe to channels which are relevant to them. This means that messages are more likely to be read because they are relevant to recipients. In addition, the municipality has a direct channel to inform entrepreneurs about, for example, the blockages in the city centre, road construction, and drawing attention to changes in the parking policy. Surveys are conducted and documents are stored within the platform, offering members a centralised hub for giving and receiving relevant information.
"Chainels is the backbone of the partnership of the entrepreneurs' association. Without Chainels, we would keep struggling with subsystems and solutions. Now our ICT is technically trouble-free." – Bert Braanker, Treasurer of the Promotie Ondernemers Binnenstad Dordrecht (POBD)
Previously, the POBD used many separate tools and processes for member management and performance monitoring. Analysis of the data would require logging into many websites and manually collecting and updating data in Excel sheets. Now, diverse data collected by external service providers is automatically visualised in Chainels' simplified overview. All together, these optimisations professionalised the association while making it possible to scale up its size since it can now manage increases in its membership.