Customer Success Story
Shortening communication lines for Van der Vorm Vastgoed
Chainels serves as a primary communication line between Van der Vorm's hundreds of shopkeepers.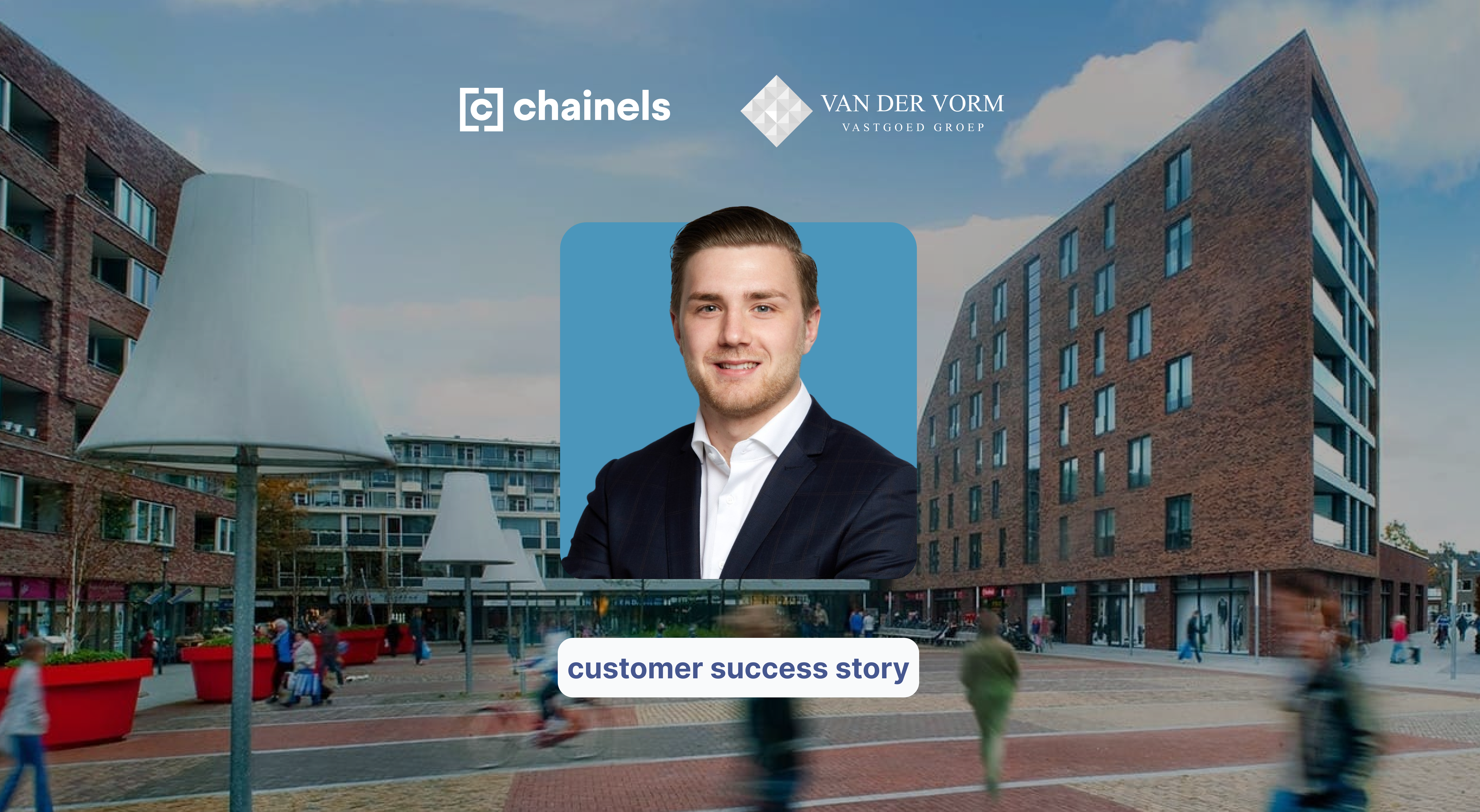 In business for more than a century, Van der Vorm Vastgoed is a real estate investment company that owns and manages properties and shopping centres in 50 of the largest cities across the Netherlands including Delft, Haarlem, Leiden, Papendrecht and Utrecht among many others. Chainels serves as a primary communication line between its hundreds of shopkeepers. Thanks to the platform, tenants are more involved in both reading and responding to messages as well as answering surveys. Management can easily send reminders and retrieve responses to surveys, an effective improvement from mass emails which were cumbersome to create and largely ignored.
Chainels recently chatted with Jorian Broekmeijer, Van der Vorm Vastgoed's retail leasing manager and commercial point of contact for shopkeepers in two of the organisation's centres based in Delft and Leiden. Chainels supports him on a daily basis in his role as the first line of communication for shop tenants.
"The biggest advantage of using Chainels for us is having all communication with all stakeholders in one place. Tenants reply to our messages and start interacting with each other. We send out surveys and get their opinion firsthand. This is how we get a closer-knit group of shopkeepers in our centres." – Jorian Broekmeijer, Retail Leasing Manager
Before using Chainels' tenant experience app, Van der Vorm Vastgoed used conventional bulk email lists, and after a message was sent to tenants' inboxes, it felt like it entered a black hole since there was little engagement in the form of email replies. What is valuable about Chainels, according to Jorian: 'when there are new tenants, they are simply added to the community with a simple click of a button. Recently the feature was used to conduct a survey among all tenants'. Jorian adds that 'you can send a lot of information to the community, but the nice thing about Chainels is that you create an environment where you also get information back. Chainels helps us not only with reaching our tenants better but by creating more engagement.
Jorian 'finds the platform user-friendly' and likes that 'tenants can respond to messages again at a later time. And when I post a message, several tenants respond and they will contact each other again'. In addition, if someone doesn't check Chainels often or doesn't use it much, then 'I can point out to them that it is useful to look it up in Chainels because a lot of valuable information is shared with the community,' says Jorian. Another plus: you can always refer to messages on Chainels since all tenants can always find them there. Gone are the days of excuses like 'it was in my spam' or 'I did not receive it'.