Customer Success Story
Success at Forum Gdańsk, Chainels sweeps Multi's Polish shopping centres
Optimising Multi's operational strategy through Multi Forum, the management and communication tool capable of handling all operational tasks.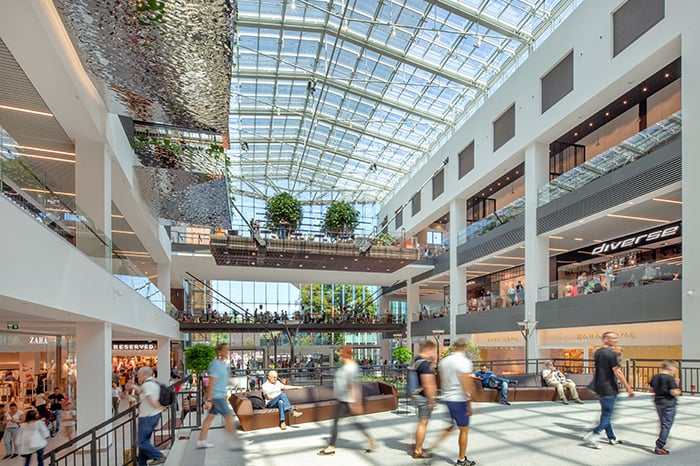 Opened in 2018, Forum Gdańsk is an award-winning shopping centre in the port city of Gdańsk, Poland. Situated near the Gdańsk Główny railway station, historical Old Town as well as municipal buildings, Forum Gdańsk is a retail-led, mixed-use asset within the retail portfolio of Multi Corporation. With optimising Multi's operational strategy as a leading factor, Forum Gdańsk kicked off a pilot project to digitise its operations and communications back in 2021. Multi Forum – a proptech solution powered by Chainels – was implemented as the shopping centre's primary digital, all-inclusive management and communication tool capable of handling all necessary tasks on an operational level. The tenant experience app was used amongst its internal management team and over 180 tenants, with Forum Gdańsk serving as a testing ground for viability across the portfolio of Multi Corporation. An extensive range of international and premium brands, dining establishments and a cinema are among the shopping centre's offerings and tenants. In addition, health and safety-related and digital communication increased during COVID-19 with the sharing of protocols reaching everyone while the mall had to be closed in Poland. Besides being a crucial tool for the management and operations team, Chainels is of great value for tenants. Forum Gdańsk's tenants were happy to finally have all of their tasks completed in one app instead of having to email, fill in Excel sheets and call.
After successful implementation of the app across Forum Gdańsk's diverse range of tenants, Chainels was rolled out across Multi's international portfolio. Since May 2022, four more shopping centres in Poland have been utilising Chainels including Ferio Konin in the city of Konin, Galeria Pestka in Poznań, Magnolia Park in Wrocław and Sarni Stok in Bielsko-Biała. The centres' management teams and tenants are highly engaged and motivated to use Chainels on a regular basis for reporting and handling issues, collecting store turnover, boosting tenant loyalty programs, offering bookable amenities and services and handling work requests. Time-saving modules contribute to increased efficiency including Request Forms which enables a digital approval process for any request within centres such as after-hours building access. All five centres have exceptional activation statistics and are eliminating the use of paper. They have insight into how much time is spent resolving issues, the number of work permits issued, turnover data and overall tenant engagement. Notably, the local community has been boosted through the use of a loyalty programme for staff as well as the tenants through the sharing and redeeming of discounts at local stores. Discounts for use within the local community have been redeemed thousands of times.
Among other improvements, an extensive work permit request approval process is used for technical works or more risky works so it can be reviewed thoughtfully. For evacuations, a confirmation poll is used to check if everyone has left the building safely and all users must check in via the app. What's more, tenants can immediately book posters and banners for advertising within their centres, easily seeing availability and reserving and paying in one booking system instead of emailing back and forth with managers. Through the use of Chainels, Multi Poland's centres are contributing to the organisation's ESG goals, lowering operational costs and increasing tenant satisfaction.