Release notes
Elevate tenant communication with Chat
Discover the power of Chainels Chat - the ultimate communication tool for property managers and tenants. Streamline your interactions, enhance community engagement, and enjoy secure, efficient communication.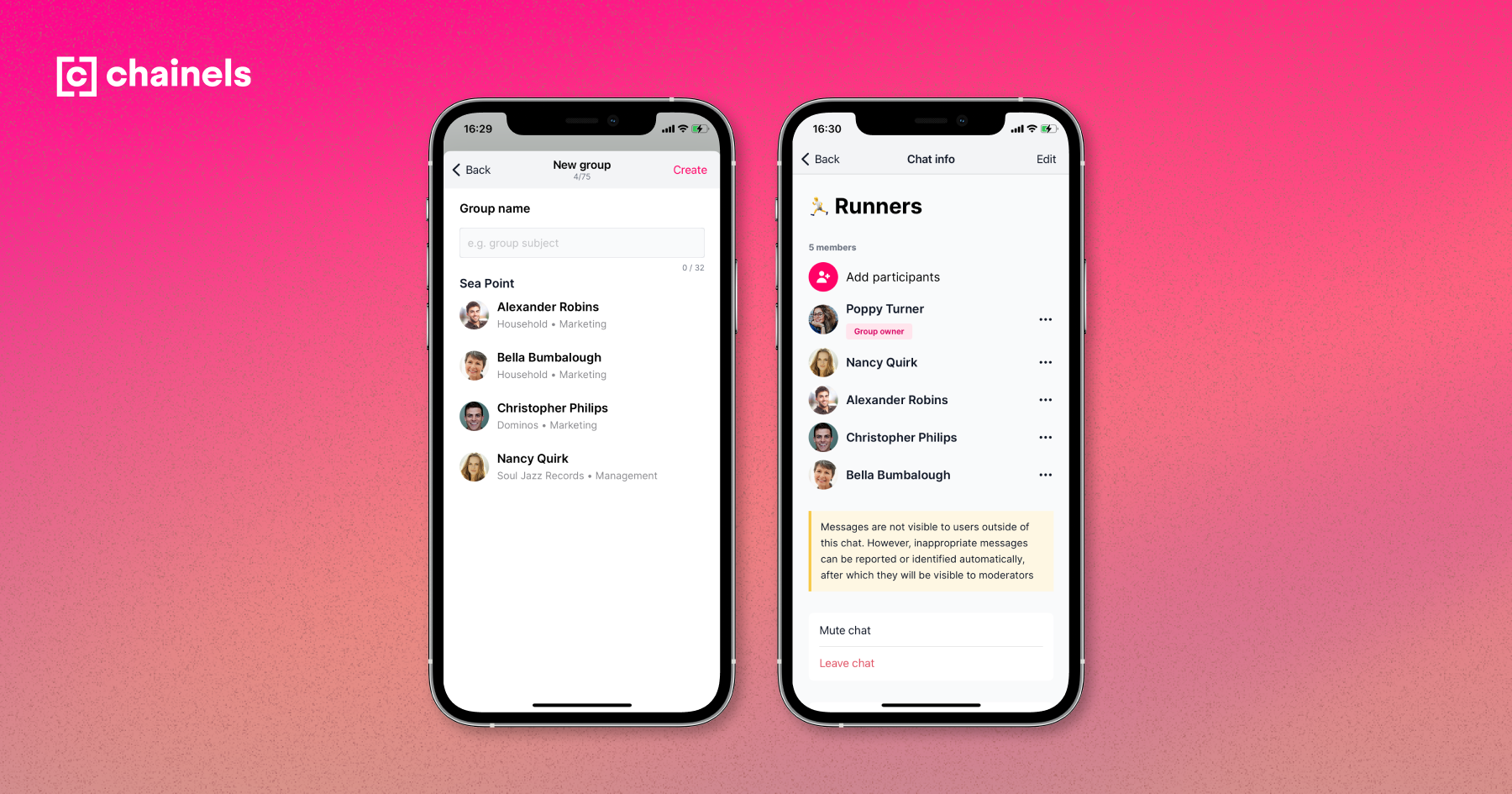 In today's property management landscape, effective communication is non-negotiable.

Our recent tenant survey found that 57% of tenants value good communication and responsiveness from their landlord. Almost a third also stated that their current landlord wasn't delivering on this.

That's why we've developed Chat, a tool designed to streamline tenant-landlord interactions. Accessible on both desktop or mobile, Chat simplifies communication by making it safer, more targeted and more dynamic.

Forget about juggling multiple channels like email and WhatsApp – Chat offers a consolidated, tenant-focused approach.
Unlocking the power of community through Chainels Chat
Efficient communication—Chat offers tenants a direct line of communication with property managers, neighbours, and community managers. This direct connection can help address concerns and questions more quickly, leading to a more responsive and efficient property management process.


Enhanced community engagemen

t

—Planning events, activities, and initiatives that bring tenants together has never been easier. With Chat, you can create groups and facilitate real-time communication, making it simple to engage tenants in the shared experience of community living. Whether it's a potluck dinner, a neighbourhood watch initiative, or a book club, Chat makes it easy to organise and communicate with fellow tenants


Seamless information dissemination—

Keeping tenants informed about important updates, discounts, policies, or items for sale is essential for a well-functioning community. Chat acts as an alternative channel to ensure that vital information reaches all tenants, bridging any communication gaps that may exist through other channels. This ensures that everyone is on the same page and involved in community activities.




What sets Chainels' Chat module apart?
Privacy and security—Unlike platforms that require phone number sharing, Chainels Chat safeguards your privacy. No need to disclose phone numbers, ensuring professional communication without personal data exposure.


Effortless file sharing—Sharing documents, such as rental contracts and invoices, is a breeze within the app. Chainels Chat streamlines document exchange, making it convenient for both property managers and tenants.


Control over notifications—Chat empowers users with control over their interactions, letting them opt-in or opt-out of receiving messages. For those opting in, the system sends email reminders after an hour of non-response (this is optional).
Frequently asked questions
Our new chat module is full of great new features for you to explore. To help you know what to expect, we anticipated some of your questions and answered them here. For more information, request a demo now.
How can I access Chainels Chat?
Accessing Chat is user-friendly. On the mobile app, simply tap the speech bubble icon in the toolbar at the bottom. On the desktop app, click the speech bubble icon in the top right navigation bar.
Is my phone number visible on the platform?
Your phone number remains confidential when using Chainels Chat. Personal data stays protected, ensuring a secure and professional communication channel.
Can tenants communicate with me directly through Chat?
Yes, tenants can directly communicate with community managers via Chainels Chat. Users can choose to contact community management, specific users, or initiate new groups based on their preferences.
How do I report or flag an inappropriate message for moderation?
Reporting or flagging inappropriate content is straightforward. On mobile, long-press the message and select 'flag.' On desktop, hover over the message, click the ellipsis icon, and choose 'flag.'
Can I customise how I receive notifications?
Chainels Chat provides users with precise control over message notifications. Mute or leave chat notifications from specific individuals or groups. Customise notification preferences in Settings > Notifications.


Enjoy a secure, efficient, and user-centric communication platform.
With its privacy features, real-time communication capabilities, and customisation options, it's the ultimate solution for enhancing tenant experiences and streamlining property management. Bid farewell to communication hassles and welcome frictionless interactions with Chainels Chat. Elevate your tenant communication game today!