Chainels News
Multi Corporation and Union Investment partner with Chainels
Multi Corporation and Union Investment partner with Chainels to drive digital innovation in shopping centres and improve management of retail assets.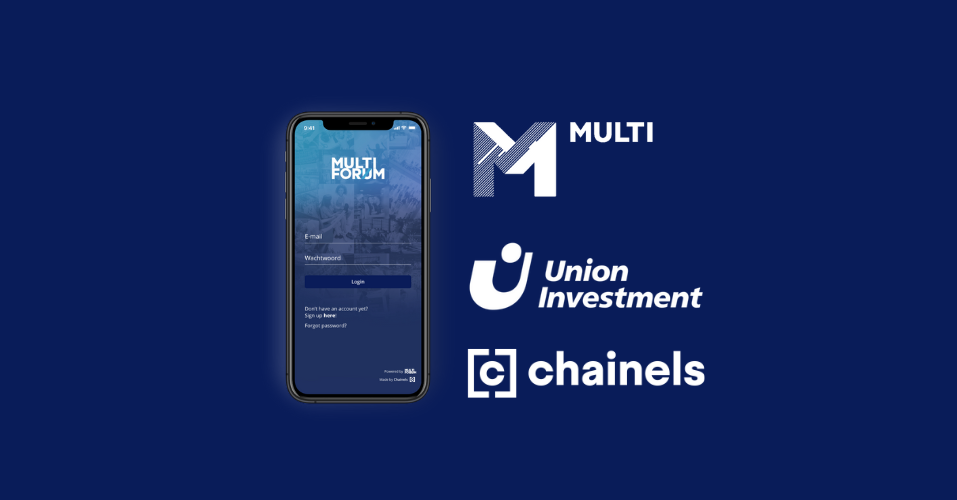 PRESS RELEASE
FOR IMMEDIATE RELEASE
Multi Corporation and Union Investment partner with Chainels to drive digital innovation in shopping centres and improve management of retail assets
Munich, Germany, 5 October 2022 – Chainels, the tenant experience platform, has partnered with Multi Corporation, one of the leading commercial asset management companies in Europe, to launch the Multi Forum tenant experience app, and provide a digital ecosystem to retail assets managed by Multi. Among the assets that use the app are Polish-based Magnolia Park, Ferio Konin and Sarni Stock, and Turkish-based Forum Kayseri and Forum Mersin, all owned by Union Investment. By using the Multi Forum platform, Multi and Union Investment show their commitment to improved tenant satisfaction and more efficient asset management, while creating a competitive advantage through technology and innovation.
Multi Forum is a digital, all-inclusive management and communication tool capable of handling all necessary tasks on an operational level in a shopping centre. Powered by Chainels and tailored exclusively for assets under Multi's management, the platform improves the communication between property management teams, service providers and tenants, while digitising workflows. Multi Forum is a user-friendly portal available in website and app formats.
The centre management teams use Multi Forum to collect store turnover, boost tenant loyalty programs, and handle work requests. In contrast, the tenants can report issues and book amenities and services through the same platform. Tenants can also book advertising space within the centres, easily checking availability, reserving, and paying for the space through the platform instead of emailing back and forth with centre managers. Time-saving modules contributing to increased efficiency include the 'Request Form' module which features a digital approval process for any request within the centre, such as after-hours building access, or the 'Turnover Reporting' module that makes the submission and collection of turnover data a friction-less process through its Smart Performance Reporting and Integrated Reminder features. Using the module, tenants enter their sales data by the deadline previously agreed upon with the owner or manager. Data can be collected on a predefined frequency, e.g. daily, weekly, monthly, quarterly and/or yearly. Automatic reminders whose timing and frequency are fully configurable, are set in advance and are only sent to those tenants who haven't submitted the store turnover yet.
Through Multi Forum turnover reporting, management teams receive the sales and performance data they need to determine the rent and to invoice tenants, but can also request additional performance KPIs, including footfall, energy usage, basket size, per product group sales and online vs offline sales to better understand overall performance and trends.
With a portfolio of more than 80 retail assets across Europe representing a total of over €5 billion of assets under management, Multi Corporation is one of the leading commercial asset management companies in Europe. By choosing Chainels and opting for innovative technology, Multi shows its continued commitment to operational excellence and increased efficiency, while generating long-time value for its clients. Multi is implementing the Multi Forum app across the portfolio they manage on behalf of Union Investment to strengthen tenant engagement, make a positive impact on the local communities and drive productivity through data-driven asset management and property management. As the landlord, Union Investment can access the data gathered through the Multi Forum platform, and work with the Multi property management teams to optimise their tenants' experience.
Jörg-Michael Zimmermann, Head of Asset Management Shopping Center International, Union Investment Real Estate GmbH, said: "At Union Investment we pride ourselves in developing strong partnerships with both our tenants and contracted property managers. These collaborative partnerships are vital to delivering a fresh, compelling experience that engages customers and ensures that properties remain attractive and successful over the long-term. The partnership with Multi and Chainels enables us to build a strong eco-system across the portfolio and offer synergies to our tenants to best serve them.'
Sander Verseput, co-founder, COO & CFO at Chainels added: "Since our creation in 2013, we have powered 30 million m2 of customer's space and have become the strategic technology partner of over 400 communities in 16 countries. We pride ourselves in working closely with our customers and other technology players to offer solutions that are both flexible and future-proof. We look forward to a fruitful relationship with Multi and Union Investment."
End
Want to learn more about how Multi is driving performance through Chainels?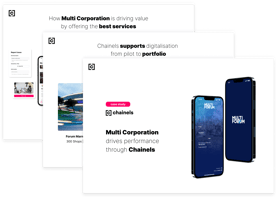 About Chainels

Chainels is a tenant experience app that combines all essential communication, workflows, services and amenities in one platform. Property owners and managers of multi-tenant properties such as shopping centers, offices, mixed-use and residential buildings use Chainels to communicate with all tenants, service providers and other stakeholders within their assets and thereby improve tenant engagement. In addition, we offer a selection of additional modules to digitise and streamline internal and onsite workflows. Organisations using our all-in-one solution in their daily operations will see a contribution to retaining tenants, reaching ESG goals and increasing profitability. Our Rotterdam-based team of in-house product developers, creative designers, business developers and customer success managers power Chainels. Together, we provide world-class service and are always willing to go the extra mile, constantly pushing the boundaries of our product to better serve the needs of our customers. For further information, visit: www.chainels.com.
About Multi Corporation
Multi Corporation is the leading pan-European platform for integrated real estate management services. Since its foundation in 1982, the company delivered over 200 mixed use projects with a total GLA of over 5 million sqm, with an asset value of almost 13 billion Euros and winning over 200 industry awards. Multi now manages over 80 properties across Europe and welcomes over 400 million customers annually, spending an estimated €4 billion across more than 6,000 stores, restaurants, and leisure facilities. Multi's clients include both global real estate investors, such as Union Investment, Credit Suisse, Allianz, CBRE Global Investors, Corestate Capital Group and Commerz Real, as well as regional developers and owners. Multi offers a full spectrum of services, including active asset and property management, shopping centre operations, redevelopment and refurbishment, leasing, legal and compliance. Thanks to our in-depth knowledge of retailers, investors, visitors, and local markets, we protect and drive asset value at every phase. Multi's broad financial, commercial, and technical expertise has enabled us to outperform the industry in terms of occupancy, net rental income and state-of-the-art marketing over the years. Multi actively manages assets in 13 countries: the Netherlands, where it is headquartered, Belgium, Germany, Hungary, Italy, Latvia, Poland, Portugal, Slovakia, Spain, Switzerland, Turkey and Ukraine. For further information, visit: www.multi.eu.
For more information, please contact:
Chainels
Melanie Waegeman
Head of Marketing
T: +31(0)6 43 42 77 91
E: melanie@chainels.com

Multi Corporation
Joram Kanner
PR & Communications
T: +31 (0) 20 25 88 100
E: jkanner@multi.eu